The shared experience between parent and infant, that Be kind offers in the theater, is in a way similar to the experience of reading a book together.

Knowing the importance of reading to young children, it was clear from the start that Emilie wanted to develop an accompanying book to the performance.

She asked Rianne van Duin, who designed the set, to also create a pop up book based on "Be kind".

The beautifully illustrated book permits to rediscover the main scenes of the performance in an original way and to continue the circus theater experience at home. An occasion to bond, a moment to put some simple words on what babies have seen at the theater and extend their memory of it.

It was also a nice opportunity to portray contemporary circus in a children's book.

The book was entirely produced in the Netherlands and is available for purchase after the performance.
Rianne van Duin
set & book
Designs and imagines 2D & 3D worlds for children, in which you can play and/or experience stories

For Be kind, Rianne created the playful set made of different textures and colors of cardboard offering both the artists and babies endless possibilities for exploration. She also developed the pop up book based on the performance.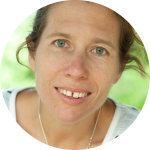 AUTHOR: Rianne van Duin
ORIGINAL IDEA FROM: Emilie Weisse
PUBLISHER: TENT, house for Contemporary Circus
DATE OF PUBLICATION: September 2022
DESCRIPTION: Popup book, turning wheel, sensory materials, mirror, glow in the dark page
NUMBER OF PAGES: 10
SIZE: 50 x 150 x 15mm
WEIGHT: 208 grammes
AGE INDICATION: from 6 months old
PRINTED BY: Antilope de Bie (Drukker), Voetelink BV (Grafische afwerking)
SPECIAL THANKS TO: Hanneke Meijers and JNB-Maker